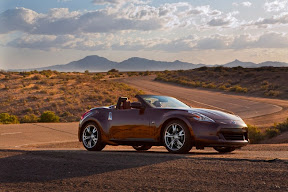 We've done it! Darla and i have finally accomplished our goal of paying off our cars. It feels great to not have a payment, to know you are capable of doing what you set out to do. So how do we want to celebrate? By buying a car of course.
Two nights ago Darla and I were driving past car lots in Beaverton when we drove past a shinny, gray, convertible. If you have read any of my past blogs you know I have always wanted a
Circle Car
. A Circle car is of course a car with a circle emblem. Audi's, BMW's, Mercedes are all circle cars. We circled back to see what it was. I have been secretly wanting a Mercedes SLK350 convertible, or an Audi convertible. What we saw was something I had not considered. Pulling into the lot I came face to face with a Nissan 350Z convertible roadster. It was used, but i was definitely intrigued. To my surprise Nissan is a circle car. I walked around it once, I walked around again. The lines of the car were beautiful. Darla, smiling at me said, you have to drive it. As I was about to go in, the sales guy came out, and that is when the game began.
Abdul came towards me with a huge smile, "You like, it's a beauty." he sensed he had a fish on the line, and that fish was me. The car had only just gotten to the lot a few days before, it was sure to go fast. He went to get the keys and Darla parked our car. As Darla got in the 350Z there were the comments on how much nicer the car looked with her in it. I of course was thankful it was only a two seater and only Darla and I could fit. As I turned the key the engine roared to life. Abdul said something about a high performance package and we drove off. Wow, wind in my hair, power in my hands, and smile on my face. We zipped around turns, exploded off the line with each green light, then we started to recognize the rattles and squeaks that come with a used car. Returning to the lot I explained to Abdul that while I liked it, this was not the car. He then smiled even bigger and said he had two brand new ones out back that were only $3000 more. Like lambs to the slaughter we followed. It was white with a black top. 6 speed automatic, a 370Z convertible. This was a driving experience. Darla and I giggled as we drove. I envisioned a race track as I worked through the gears. No rattles, no squeaks, this could be it. Back to the lot, and it was time to be reeled in.
Abdul was waiting, he could tell "we liked." As we walked back in, he said, "which do you like better, the black or the white?" "The white one of course," came rolling of my lips. "Cash, or do you want me to finance for you?" He was good, leading me right down the path towards a close. I new the next question would be, how can we help you take this car home tonight, and on cue, that is what came out of Abdul's mouth. I gave him my, this is the first stop, we weren't planning tonight response, and let him know I was interested in what it would cost me monthly. Yep, I gave away the first point. Abdul now knows I don't care how much the car costs, only what the payment will be. And, Abdul zeros in, "What are you hoping for?" My reply was the simple, not sure just wanting a ball park. We gave him the stuff he needed and then he brought out Corry, the finance guy.
If Abdul was good, Corry was better. He was smooth and calculating. He didn't mind those long periods of silence designed to make you sweat and give in. He once again started to work on our monthly range, and got us to bite. He wasn't sure if he could swing it but he would try. He came back with numbers and term lengths. Darla was firm, she was set on the amount and no more than 72 months. Corry left to talk to the unseen manager to see what he could do. Back again, but still not at our spot. It was then that we noticed we were working with a higher price for the car then the one Abdul quoted. We were told that was a special price that ended on July 31, we just missed it, bummer. He went to see once again if they could flex, and again came back a little closer. Would we go with 78, or 80 month terms? We were only $24 per month off that way. We said no, and that we would be more excited to be $24 off in our favor. We got up, thanked them for their time, and headed back to the car.
Yesterday morning I got on line and was surprised to see the very car, listed at the price Abdul originally gave us. I sent a quick email to Abdul and told him how close we had been, and if the had used the right starting price we would have bought last night. I also said but since the had been willing to drop $5k off the price we were negotiating last night I might come in for a $4k reduction off the current price. Last night, Scott the sales manager left me a message stating he had good news. I'll call today to see what the news is. What a Game.
- Posted using BlogPress from my iPad